On 6th and 7th June, the first TADHack (Telecom Application Development Hackathon) was celebrated in Madrid with more than 600 inscribed developers and the presence of very relevant vendors and service exposure / WebRTC platforms. It's an unusual and yet very practical event, and the assistants were able to access the different vendor platforms, so being user friendly was key: developers should be able to integrate their applications with the telecom services in less than 24 hours. That is a big challenge for the participants but also for the sponsors.
Optare Solutions participated in the event as partner with the Oracle Communications team. In less than three weeks, we were able to deploy and configure all the Oracle platform to support the event and the developers who wanted to develop their applications using the Oracle products. We provided:
A web page where developers were able to register and find all the required documentation.
Telecom Service Exposure using Oracle Communications Services Gatekeeper to provide access to messaging, location and payment APIs.
WebRTC services using Oracle Communications WebRTC Session Controller and the SDK to develop real-time applications using the browser.
Example Applications to learn how to use the Telecom APIs in mobile Apps or how to add WebRTC functionalities to web pages and processes.
Support to developers, before the event using a ticketing system and also directly at the event.
Optare Solutions team identified two main challenges from the beginning:
The platform should be available as soon as possible but security, stability and reliability are key so they have to be guaranteed. We didn't know the number of developers who would use our platform so we had to be able to scale our Oracle applications in a simple and immediate way. To achieve this, we used different approaches such as virtual environments, load balancing and Weblogic tunning.
It wasn't necessary to have the most complete platform because if developers see it as something too complex or obsolete they won't use it. Therefore we concentrated on making it easy to use, we had created videos and howtos explaining in a very clear language how to start working with the environment in minutes. We also included cool features and a fresh web page design.
The event turned out to be a great success. The environment was up & running all the time (100% availability) and some of the developers congratulated us for its user friendly and the cool features design,With our help getting started, it was found comfortable and easy to develp .
In short, for the following reasons Optare Solutions has proved an ideal partner to participate in these events:
We are a company focused in telecom market: we know the technologies, the environment and we are very comfortable working with communication service providers, vendors and big system integrators. Our customers can delegate their project to us with the confidence that it will be done exactly how they would .
We are a medium – sized company, so we are very agile and we are constantly up to date with the lastest technologies. We know how to engage developers to participate in this type of event and use Service Delivery Platforms. We can speak their language and anticipate their requirements.
It is precisely our ability to mix the Telco and IT worlds which makes Optare Solutions the prefect choice to deploy and integrate telecom service exposure and WebRTC solutions. In fact, we also participated in the TADHack developing some hacks, a review your bill web-page and application to buy soccer trading cards using direct carrier billing.El pasado 6 y 7 de Junio se celebró en Madrid el primer TADHack (Telecom Application Development Hackathon) con más de 600 desarrolladores inscritos, algunas de los principales fabricantes y plataformas de exposición de servicios y/o WebRTC. Se trata de un evento distinto, de carácter muy práctico, donde se han podido probar las soluciones y se ha puesto a prueba su facilidad de uso: en menos de 24 horas los programadores debían de ser capaces de integrar sus proyectos con los servicios telecom expuestos. Un reto para todos los participantes y también para los sponsors.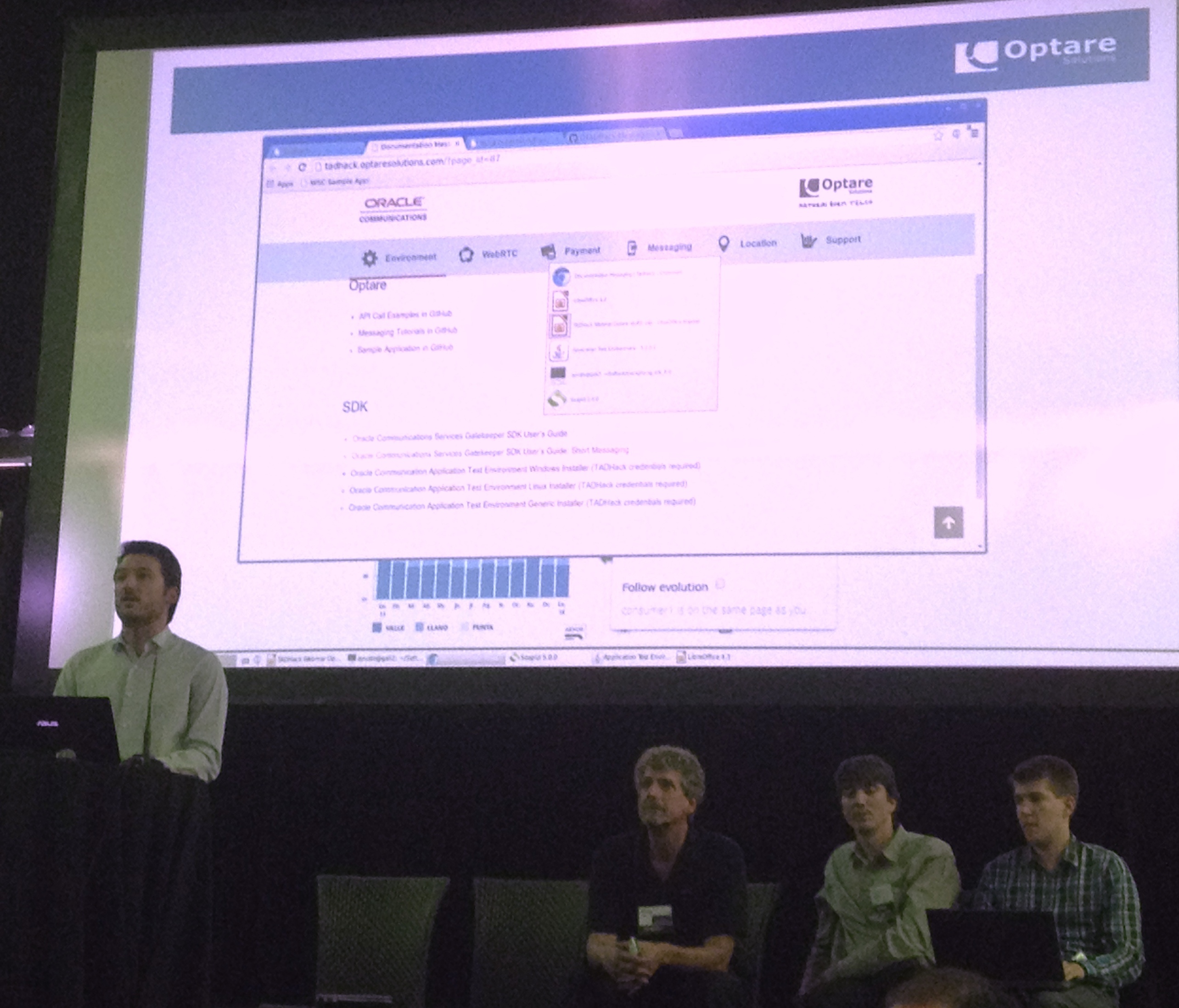 Optare Solutions participó en el evento en calidad de partner. En menos de tres semanas, desplegamos y configuramos la plataforma que Oracle puso a disposición de los participantes y que constituía en:
Una página web en la que registrarse y encontrar toda la documentación necesaria.
Exposición de servicios a través de Oracle Communications Services Gatekeeper dando acceso a APIs de mensajería, localización y pago.
Servicios WebRTC a través de Oracle Communications WebRTC Session Controller y una SDK para desarrollar aplicaciones de comunicaciones en tiempo real a través del navegador.
Aplicaciones de ejemplo para aprender a incorporar las APIs telco a APPs desarrolladas en el móvil o para incorporar fácilmente capacidades WebRTC a los distintos proyectos.
Soporte a los desarrolladores, antes del evento y durante el mismo, a través de varios medios.
Desde Optare Solutions teníamos claro que había dos retos principales:
Desplegar las herramientas en el menor tiempo posible pero garantizando su estabilidad y asegurándolas contra posibles intrusiones. No conocíamos el número de programadores que utilizarían nuestra plataforma, por lo qué la capacidad de poder escalar las aplicaciones Oracle de una manera sencilla e inmediata era un factor crítico.
Por otro lado, no sirve tener la plataforma más completa si los programadores la perciben como algo complejo u obsoleto, y no se animan a utilizarla. Por ello hicimos gran hincapié en la facilidad de uso, creamos vídeos y recetas que permitían empezar a trabajar en pocos minutos y le dimos un enfoque moderno a la página web, newsletters, el soporte, etc.
Finalmente, el evento ha sido un éxito. El entorno montado estuvo disponible el 100% del tiempo y algunos de los programadores nos felicitaron por la facilidad de uso y el toque "cool" que les hizo el trabajo más agradable. Resumiendo, Optare Solutions demostró ser un partner ideal para este tipo de eventos por varias razones:
Somos una empresa que trabaja únicamente en el ámbito telco: conocemos las tecnologías, los entornos y nos sentimos muy cómodos trabajando con operadoras, fabricantes y grandes integradores. Nuestros clientes pueden delegar en nosotros con la confianza de que el proyecto se hará tal y cómo ellos desean.
Somos una empresa de tamaño medio, lo que nos permite ser muy ágiles y estar siempre a la última en tecnologías. Sabemos lo que demandan los programadores y tenemos la capacidad para anticiparnos a sus necesidades y comunicarnos con ellos en su mismo idioma.
Es precisamente la capacidad de unir el mundo Telco e IT lo que hace de Optare Solutions la elección perfecta para proyectos de despliegue e integración de soluciones de exposición de servicios y WebRTC. Prueba de ello, es que en el TADHack además de proporcionar la plataforma, participamos enseñando un par de Hacks: la revisión de la factura con WebRTC y una aplicación para el móvil para comprar cromos del próximo mundial utilizando Direct Carrier Billing.